---
"Your training is so valuable to help us ensure we do the right thing to support our students."
– Rainbow Flag School Representative
Staff Training
Our training for teaching, pastoral and administrative staff in schools and colleges can cover a broad introduction to 'LGBTQ+ Inclusion' or focus specifically on the needs of trans and gender-diverse students.
Sessions can be delivered online or in-person and always include opportunities to ask questions and engage in discussion with the trainer.
Prices start from £425 for a 2-hour training session for state schools and £665 for fee-paying schools.
Student Workshops
Our workshops for students promote a positive culture of acceptance and provide young people with tools to better support their peers. Content is tailored to the age group and linked to the National Curriculum.
Current topics include:
Tackling LGBTphobic Bullying
LGBTQ+ Inclusive SRE
Prices start from £180 for a 1-hour workshop for state schools and £300 for fee-paying schools.
---
The Rainbow Flag Award
The Kite Trust is proud to be delivering The Rainbow Flag Award to schools and colleges in Cambridgeshire, Peterborough, Bedfordshire, Essex, Suffolk, Norfolk, Northamptonshire.
The Rainbow Flag Award is a national quality assurance framework for primary schools, secondary schools, SEND schools and alternative provisions. The award focuses on positive LGBTQ+, (lesbian, gay, bisexual, trans, questioning plus other related identities), inclusion and visibility. The Rainbow Flag Award encourages a whole organisation approach to LGBTQ+ inclusion, as well as developing strategies to effectively challenge and combat LGBTphobic bullying.
Committing your school to the Rainbow Flag Award is a commitment to improve the lives of all the young people that you work with, including those that are LGBTQ+, those from LGBTQ+ families, and LGBTQ+ staff members.
Through a year-long process of self-assessment and ongoing monitoring and feedback, schools have access to a variety of training, resources and interventions, helping them meet set standards in each of the following areas:
Skilled teachers
Supportive governors and parents
Effective policies
Inclusive curriculum
Pastoral support
Student voice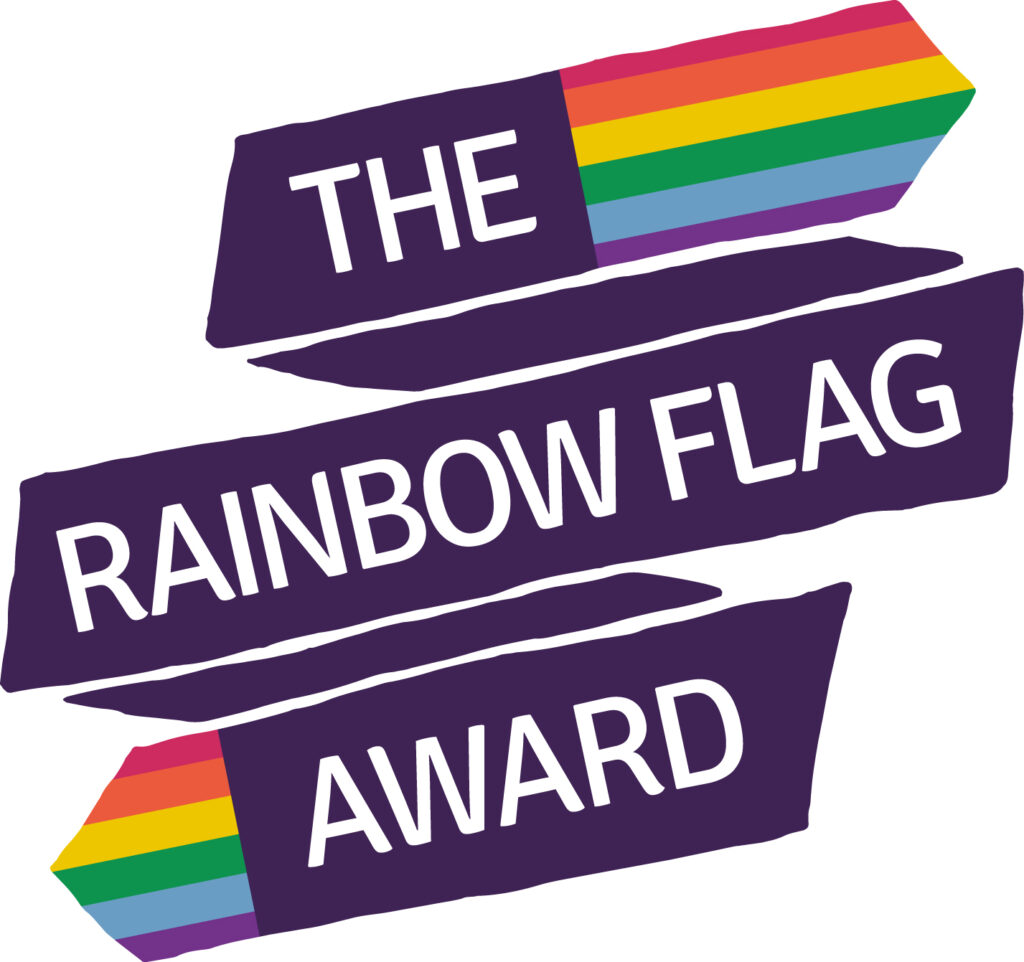 What does it cost and what is the commitment?
Primary and other small schools: £795
Secondary schools: £995
Independent schools: £1295
This is for a one-year membership during which you will be supported to complete the award. You will then hold the award for an additional two years (at no extra cost) before being invited to renew it.
Membership includes:
Two places (one for a member of your Senior Leadership Team) on starter training
Access to the Members' Area of the Rainbow Flag Award website where you can access your Rainbow Flag Award Handbook, a guide to 'Developing Effective LGBT+ Inclusive Policies', plus some other starter resources.
Access to evidence reviews during the year, where you will receive detailed and constructive feedback on evidence you submit for each of the six Rainbow Flag Award sections.
Access to 'The Rainbow Flag Award Classroom' – LGBTQ+ inclusive lessons in all curriculum areas for key stages 1 to 4.
Ongoing advice and support via telephone and/or email during the year.
20% off the cost of any additional training, services and resources from The Kite Trust.
20% off the cost of resources produced by our Rainbow Flag Award partner organisations – see here.
What are the benefits?
Schools that take part in the Rainbow Flag Award will be supported to meet:
Their legal requirements to ensure positive LGBT+ inclusion in schools, and to be effective in tackling LGBTphobic bullying;
The Ofsted requirement for them to be teaching positively about LGBTQ+ lives;
The requirements of the Relationships and Sex Education (RSE) curriculum in secondary schools, and Relationships Education in primary schools;
Their moral requirement to meet the needs of all students, including those that are LGBTQ+.
For more information about participating in The Rainbow Flag Award, please email [email protected] or call us on 01223 369508.
Download the Rainbow Flag Award flyer here.
Download the Rainbow Flag Award application form here.
Supporting Local
While the Rainbow Flag Award is a national framework, delivery is by LGBTQ+ organisations working with LGBTQ+ communities in your local area. The Kite Trust has over 25 years' history of working with LGBTQ+ young people in Cambridgeshire and the surrounding areas. This means that the content of any training will be up to date and relevant, with the needs and experiences of LGBTQ+ young people from across the East of England at the heart of delivery. Any monies generated from this scheme will help fund our vital work with LGBTQ+ young people locally.
Not in Cambridgeshire, Peterborough, Bedfordshire, Essex, Suffolk, Norfolk or Northamptonshire? Find your local Rainbow Flag Award delivery organisation here.