The Kite Trust is proud to be the accredited organisation delivering The Rainbow Flag Award to youth organisations in Cambridgeshire, Peterborough, Bedfordshire, Essex, Suffolk, Norfolk, Northamptonshire.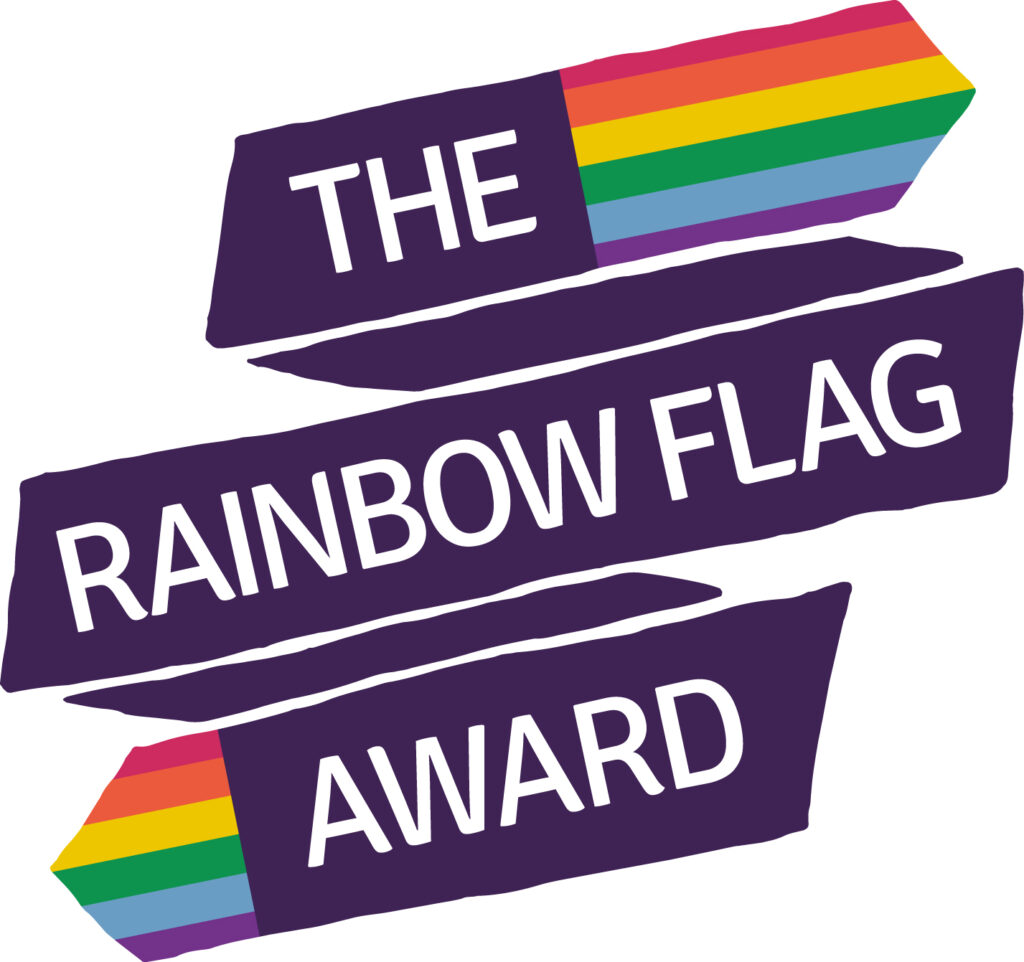 The Rainbow Flag Award is a national quality assurance framework for any organisation that works with young people. The award focuses on positive LGBT+, (lesbian, gay, bisexual, trans, plus other related identities), inclusion and visibility. The Rainbow Flag Award encourages a positive whole organisation approach to LGBT+ inclusion, as well as developing strategies to effectively challenge and combat LGBTphobic bullying.
Committing your organisation to the Rainbow Flag Award is a commitment to improve the lives of all the young people that you work with, including those that are LGBT+, those from LGBT+ families, as well as LGBT+ staff members.
Suitable for FE Colleges, Youth Services, Youth Clubs, Uniformed Organisations and other youth focused organisations.
How does it work?
Through a year-long process of self-assessment and ongoing monitoring and feedback, schools have access to a variety of training, resources and interventions, helping them meet set standards in each of the following areas:
---
Cost:
BAND A: £795 for organisations with 0-15 employees (includes two places on starter training)
BAND B: £1295 for organisations with 16-50 employees (includes three places on starter training)
BAND C: £1895 for organisations with 51-200 employees (includes four places on starter training)
BAND D: £2595 for organisations with 201-500 employees (includes five places on starter training)
BAND E: £3395 for organisations with 501+ employees (includes six places on starter training)
This is for a one-year membership during which you will be supported to complete the award. You will then hold the award for an additional two years (at no extra cost) before being invited to renew it.
Membership includes:
Places on starter LGBT+ inclusion training (see above for training places included)
Access to the Members Area of the Rainbow Flag Award website, containing a Rainbow Flag Award Handbook, detailed information of the training, services, resources and products available from your Rainbow Flag Award delivery organisation, a "Guide to LGBT+ Inclusive Monitoring", as well as some other starter resources and posters.
Access to LGBT+ positive youth work resources.
20% off the cost of all further training and resources and resources.
Review of your work with detailed feedback.
Ongoing support.
For more information about participating in The Rainbow Flag Award, please email or call us on 01223 369508.
Download the Rainbow Flag Award flyer here.
Download the Rainbow Flag Award application form here.
Supporting Local
While the Rainbow Flag Award is a national framework, delivery is by LGBT+ organisations working with LGBT+ communities in your local area. The Kite Trust has a 30 year history of working with LGBT+ young people in East Anglia. This means that the content of any training will be up to date and relevant, with the needs and experiences of LGBT+ young people from across East Anglia at the heart of delivery. Any monies generated from this scheme will help fund our vital work with LGBT+ young people locally.
Not in East Anglia? Find your local Rainbow Flag Award delivery organisation here.